Associate Professor of History and African Studies
Catherine Shultz Rein Early Career Professor in the College of the Liberal Arts
University Park, PA 16802
PhD, University of Michigan, 2015
MA, University of Michigan, 2011
BA, Duke University, 2009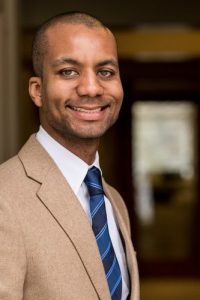 I am an historian of modern Sudan, with special focus on race and religion as political technologies. My first book, Chosen Peoples: Christianity and Political Imagination in South Sudan (Duke University Press, 2021), explores the ways that Southern Sudanese intellectuals used Judeo-Christian Scriptures to frame their revolutionary work against the Sudanese state. Named a Finalist for Christianity Today's Book Award in History/Biography, Chosen Peoples was also listed in The Christian Century as one of Philip Jenkins's picks for "best books of the year on Global Christianity."
My scholarship has appeared in venues that include the Journal of African American History, the Journal of Religious History, the Journal of Eastern African Studies, and the Journal of Africana Religions, and media appearances include BBC Radio 4, Vox, and The Conversation. My research has been graciously supported from institutions and organizations including the Woodrow Wilson National Fellowship Foundation, Andrew W. Mellon Foundation, Social Science Research Council, Council of Overseas American Research Centers, and Doris G. Quinn Foundation.
My second book, Bounds of Blackness: African Americans, Sudan, and the Politics of Solidarity, is under contract with Cornell University Press. Expanding on my recent work on the Tuskegee Institute's cotton-cultivation labor in early twentieth-century Sudan, it aims to chart a new intellectual history of black America's relationship with Africa from colonialism to the twenty-first century. Bounds of Blackness will be included in Cornell University Press's series on "The United States in the World."
Education
PhD, University of Michigan, 2015
MA, University of Michigan, 2011
BA, Duke University, 2009
Recent Publications
Chosen Peoples: Christianity and Political Imagination in South Sudan (Durham: Duke University Press, 2021)
'Women in South Sudan' In Oxford Research Encyclopedia of African History. Oxford University Press. Article published September 28, 2020. https://oxfordre.com/africanhistory/view/10.1093/acrefore/9780190277734.001.0001/acrefore-9780190277734-e-516
"Two Sudans, Human Rights, and the Afterlives of St. Josephine Bakhita" in Christianity and Human Rights Reconsidered, ed. Daniel Jenkins-Steinmetz and Sarah Shortall (Cambridge: Cambridge University Press, 2020), pp. 261-275.
"Lord Come to Our Aid: Islamisation, Civil War, and the Pastoral Letters of the Sudan Catholic Bishops' Conference" Journal of Religious History Vol. 44, no. 2 (Christianity and Politics in 20th-Century Africa, ed. J.J. Carney, June 2020): 168-186.
'Negro Canaan: Tuskegee, Cotton, and the Anglo-Egyptian Sudan' Journal of African-American History Vol. 105, no. 1 (February 2020): 28-55.
'Before the Bright Star: Football in the Anglo-Egyptian Sudan' Journal of Eastern African Studies 12, no. 4 (2018): 735-753
"Render to Caesar": Missionary Thought and the Sudanese State, 1946-1964' Social Sciences and Missions 34, no. 2 (2018): 341-374.
'Race, religion and resistance: revelations from the Juba archive' Journal of Eastern African Studies 11, No. 2 (2017): 249-265.
'Khartoum Goliath: SPLM/SPLA Update and Martial Theology during the Second Sudanese Civil War' Journal of Africana Religions 4, no. 2 (2016): 129-153.
Awards and Services
2019 Career Enhancement Junior Faculty Fellowship, Woodrow Wilson National Foundation
2015 Doris G. Quinn Fellowship, Doris G. Quinn Foundation
2014-2015 Mellon-Mays Undergraduate Fellows Dissertation Grant, Woodrow Wilson National Fellowship Foundation and Andrew W. Mellon Foundation
2013 Rackham Humanities Candidacy Fellowship, University of Michigan
2012 Multi-Country Fellowship, Council of American Overseas Research Centers