Associate Professor of History
University Park, PA 16802
PhD, Northwestern University, 2011
MA, Northwestern University, 2006
BA, Duke University, 2005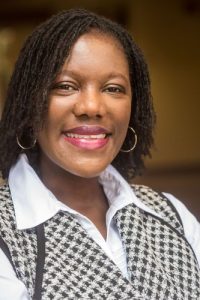 Crystal R. Sanders is a historian of the modern United States with research interests in African American History, Southern History, and the History of Black Education.  Her scholarly work joins a growing body of literature that moves beyond "the two-dimensional story of oppression and submission" during the Jim Crow era of segregation and black disfranchisement to explore African Americans' everyday acts of resistance and resiliency throughout the twentieth century in efforts to secure the rights and privileges of American citizenship.  The University of North Carolina Press published her first book, A Chance for Change: Head Start and Mississippi's Black Freedom Struggle, in 2016 as part of its John Hope Franklin Series in African American History and Culture.  The book considered how the Child Development Group of Mississippi (CDGM), a federal Head Start program for low-income preschoolers, produced a political battle between poor black mothers and grandmothers and white southern congressmen. Between 1965 and 1968, Mississippi's black working-class participants collaborated with the federal government to seek bottom-up change in the most repressive state in the country. They moved beyond teaching shapes and colors to challenge the state's closed political system and white supremacist ideology.  The book received several honors and awards including the Critics' Choice Book Award from the American Educational Studies Association and the New Scholar's Book Award from Division F of the American Educational Research Association.  It was also a short-list finalist for the Benjamin Hooks National Book Award.
Sanders's current book project, America's Forgotten Migration: Black Southerners' Efforts to Secure Graduate Education During the Era of Legal Segregation, explores the barriers  black southerners faced in securing graduate education in the age of Jim Crow.  In telling this story, Sanders, traces the beginning of a long trajectory of the use of public dollars to fund private education in order to preserve segregation.  Remarks she gave at the Annual Meeting of the Association for the Study of African American Life and History based on the forthcoming book were aired on C-SPAN3.
Sanders holds leadership roles in many professional organizations including the Association of Black Women Historians and Division F of the American Educational Research Association.   She is also a board member for the Social Science Research Council's Mellon Mays Graduate Initiatives Program.
Recent Publications:
"Katherine Johnson Should Also Be Remembered for Desegregating Higher Education," Washington Post, February 25, 2020.
"'Pursuing the Unfinished Business of Democracy': Willa B. Player and Liberal Arts Education in the Civil Rights Era," North Carolina Historical Review XCVI (January 2019): 1-33.
Blog Post, "Protest and Punishment in Rural North Carolina," Process: A Blog for American History, December 21, 2018.
Blog Post, "More Than A Song: Giving Aretha a Little R-E-S-P-E-C-T," Black Perspectives: The Blog of the African American Intellectual History Society, August 16, 2018.
"Money Talks: The Elementary and Secondary Education Act of 1965 and the African American Freedom Struggle in Mississippi," History of Education Quarterly (May 2016): 361-367.
A Chance for Change: Head Start and Mississippi's Black Freedom Struggle (Chapel Hill: University of North Carolina Press, 2016).
"More Than Cookies and Crayons: Head Start Programs and African American Empowerment in Mississippi, 1965-1968," Journal of African American History 100 (Fall 2015): 586-609.
"Blue Water, Black Beach: The North Carolina Teachers Association and Hammocks Beach in the Age of Jim Crow," North Carolina Historical Review XCII (April 2015): 145-164.
"North Carolina Justice On Display:  Governor Bob Scott and the 1968 Benson Affair," Journal of Southern HistoryLXXIX (August 2013): 659-680.
Awards and Service:
2020-2021  Anthony Kaye Fellowship, National Humanities Center
2020 Robert D.W. Connor Best Article Award, Historical Society of North Carolina
2019 Provost's Strategic Plan Seed Grant on behalf of the Africana Research Center ($120,000)
2018 Alyce Hunley Whayne Visiting Researchers Grant, University of Kansas
2017 New Scholars Book Award, American Educational Research Association, Division F
2017-2018 National Academy of Education/Spencer Foundation Fellowship
2015-2016 Archie K. Davis Fellowship, North Caroliniana Society
2013-2014 Visiting Scholar, American Academy of Arts and Sciences
2013-2014 National Academy of Education/Spencer Foundation Postdoctoral Fellowship (declined)
2012 C. Vann Woodward Dissertation Prize, Southern Historical Association
2012 Claude A. Eggertsen Dissertation Prize, History of Education Society
Recent Courses:
HIST 021 – American Civilization Since 1877
History 152 – African American History
History 302W
History 465 – The Post-World War II Civil Rights Movement