William L. and Donna F. Oliver-McCourtney Professorship in History
M.M., Royal Academy of Music
B.A. and B.F.A., Tulane University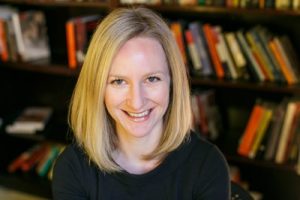 Laura Robson is a scholar of international and Middle Eastern history with a special interest in questions of refugeedom, forced migration, and statelessness. She has published extensively on the topics of refugee and minority rights, forced migration, ethnic cleansing, and the emergence of international legal regimes around resettlement and asylum.
Her most recent books are The Politics of Mass Violence in the Middle East (Oxford, 2020), a history of the relationship between violence and the state in the twentieth-century Eastern Mediterranean, and Partitions: A Transnational History of 20th Century Territorial Separatism (with Arie Dubnov; Stanford, 2019), a comparative examination of the political "solution" of ethnic partition in the decolonizing world. She is also the author of States of Separation: Transfer, Partition, and the Making of the Modern Middle East (University of California, 2017) and Colonialism and Christianity in Mandate Palestine (University of Texas, 2011), as well as the editor of Minorities and the Modern Arab World: New Perspectives (Syracuse, 2016). Her work has appeared in many prominent scholarly journals, including the American Historical Review, Past and Present, and the International Journal of Middle East Studies. Her latest book Human Capital: A History of Putting Refugees to Work will be published with Verso in 2023.
Laura regularly speaks locally, nationally, and internationally on topics related to refugeedom and asylum, and has contributed to a wide variety of national and international media outlets, NGO reports, and policy publications. In 2021-22 she was a Fellow at the Wilson Center in Washington, D.C., and is now serving on the Center's newly constituted Expert Working Group on Forced Displacement.
With Jennifer Dueck, she is co-founder and co-editor of StatelessHistories.org, a digital humanities project exploring the varied and multifaceted experiences of statelessness in the modern era.