Assistant Professor of History and Women's, Gender, and Sexuality Studies
University Park, PA 16802
PhD, Washington University in St. Louis
MA, Washington University in St. Louis
MA, The College of William and Mary
BA, The College of William and Mary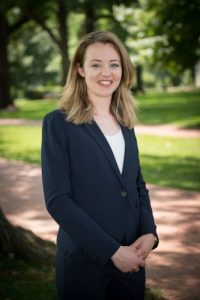 I am a social and cultural historian of early modern Iberia, with expertise in the Basque Country, the Spanish Empire, women's history, religion, courts and the law, and with broader thematic interests in comparative reformations, monasticism, witchcraft and inquisition.
My first book examines the role of women in negotiating and enforcing religious reform. Specifically, I focus on the Basque seroras, a category of uncloistered religious women active throughout the early modern period in northern Spain and Southern France. Hired competitively at the parish level and licensed by the diocese, seroras were church employees, receiving social prestige and pay comparable to that which the male clergy enjoyed. They took no vows and were free to leave the religious life if they chose, meaning that the vocation afforded them considerably more autonomy and power than traditional nuns or married wives. During their heyday, the seroras numbered in the thousands, with every Basque parish church employing one, and many employing several. By situating the seroras within the social dynamics and devotional life of local communities, The Basque Seroras broadens the way we conceive of female religious life and the opportunities it could provide. It also crucially revises our understanding of reform and consumption of legal resources at the local level. Following the Council of Trent, uncloistered religious women were broadly condemned and forced to join established religious orders; these directives notwithstanding, the seroras managed to survive well into the eighteenth century. I contend that even though the Counter Reformation program of centralization and standardization is often characterized as an immediate – and repressive – success, the seroras demonstrate the variability of local enforcement and the ways parishes could successfully press for leniency or reach tacit compromise with authorities. These devout laywomen, who straddled secular and religious spheres, were instrumental in this process of negotiated reform.
My next book project my next book project explores the hostilities and increasing culture of fear along the Navarrese border on the eve of the Franco-Spanish War. My human source into this conflict is an epileptic and amnesiac French priest who was captured and tried as a spy as he passed through Navarre on the way to Santiago de Compostela. Arrested by villagers in Sangüesa and investigated by the Diocese of Pamplona using a variety of surprisingly sophisticated forensic methods, the trial addresses the roles gender, illness, poverty, and foreignness played as villagers promoted their own vision of national security.
Recent Publications:
Books:
The Basque Seroras: Local Religion, Gender, and Power in Northern Iberia, 1550-1800 (Ithaca, NY: Cornell University Press, 2020)
Peer-reviewed Articles:
"Bullfighting, the Basque Clergy, and Tridentine Reform." Renaissance Quarterly 73, n.2 (2020): 489-526.
"The Wayward Priest of Atondo: Clerical Misbehavior, Local Community, and the Limits of Tridentine Reform."  The Sixteenth Century Journal 47, no. 1 (2016): 75-98.
"Seroras and Local Religious Life in the Basque Country and Navarre, 1550-1769."  Church History 85, no. 1 (2016): 40-64.