Welcome to the Department of History! Currently, hundreds of Penn State students are benefiting from our diverse and rigorous majors and minors. This undergraduate website mainly distills information for students who are enrolled in our majors or minors. It contains basic degree and major requirements, appropriate forms, and contact information for faculty and staff who can help you plan your undergraduate career.
Why Major in History at Penn State?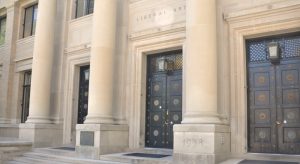 Chances are you've been asked this question more than once, or maybe even asked it yourself. In today's job-conscious environment, technical or vocational majors hold understandable attractions. The History immediate career payoff is not as pronounced as business or technology-related fields But there are many compelling reasons to choose the History major as a wonderful investment for the long haul, not just in career terms, but in terms of personal intellectual development and enrichment.
History majors acquire skills critical in today's workplace. History majors learn how to learn. Increasingly, the work world places a premium on this kind of flexibility; most people change jobs frequently, and jobs themselves are transformed rapidly, so that workers need to learn new skills all the time. History majors can have a long-term edge in this type of environment, because they are taught how to conceptualize an issue; how to research it; how to weigh evidence; how to make conclusions; and how to present their work in a compelling and coherent fashion.
Penn State History majors have enjoyed a success in a wide variety of fields. They are found in many fields that do relate to the major, such as historic preservation, museum work, and education. A healthy representation of our majors go on to law school and graduate school.
However, it is not at all unusual to find former history majors in areas that might not immediately come to mind. Penn State history majors can be found in architecture; software development; web development; banking; federal government work; and the Peace Corps, to name just a few.
History majors benefit from close involvement with humanistic learning. At its best, history offers a compelling vision of human activity and capability- from the heights of human creativity and compassion, to the depths of cruelty. It offers a unique analytical perspective on the world, too, because it brings to bear a comprehensive view that social-science disciplines seldom match. To understand history, we need to know about culture, religion, and art, as well as politics and war.
The study of history permits a breadth of knowledge, an understanding of trends, and many other intellectual perspectives that allow an individual to better comprehend today's complex world.
History majors at Penn State benefit from an excellent faculty, sound curriculum, and small class sizes. Penn State History faculty consistently receive good student ratings; over the years they have been well represented among winners of teaching and advising awards. Eighty percent of our classes are taught by professors. Almost all of our 400-level classes are capped at 35 students; this means that History students enjoy close contact with faculty to a degree that is unusual at Penn State.
History Major Requirements
History Minor Requirements
University Bulletin History Course List 
Schedule of Courses