William J. and Charlotte K. Duddy University Endowed Fellow in the Humanities
Associate Professor of History and Jewish Studies
University Park, PA 16802
Ph.D 2014, The University of Texas at Austin
M.A. 2008, Ben Gurion University (Israel)
B.A. 2006, Ben Gurion University (Israel)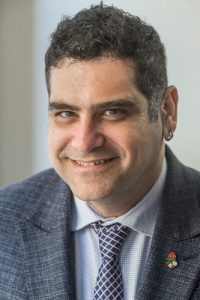 I am an associate professor of history and Jewish Studies. I am a social historian of the modern Middle East with particular interests in the histories of the Jewish people and other minorities of the region. My first book, titled "Between Iran and Zion: Jewish Histories of Twentieth-Century Iran," (Stanford University Press, 2018) examines, against the backdrop of Iranian nationalism, Zionism, and constitutionalism, the development and integration of Jewish communities in Iran into the nation-building projects of the last century. I am currently working on two book projects: "The Origins of Third Worldism in the Middle East" and a new study of the Iranian-Jewish Diaspora in the U.S. and Israel. I teach on the modern Middle East, Iran, Jewish histories of the region, and Israel-Palestine related classes.
Recent Publications:
"Jewish-Iranian Identities in the Pahlavi Era." International Journal of Middle East Studies 46:3, August 2014, 602-605.
"The Revolution's Forgotten Sons and Daughters." Iranian Studies 47:6, November 2014, 857-869.
""Iran Days" in Egypt: Mosaddeq's visit to Cairo in 1951." British Journal for Middle Eastern Studies. (Accepted; Forthcoming in 2015)
"Yahudiyan faramush shodeh-ye enqelab iran." Iran-Nameh 28:4, Winter 2013, 16-22 [In Persian; This article focuses on the story of the Jewish Hospital in Tehran during the 1979 revolution, which in part included in my article "The Revolution's Forgotten Sons and Daughters").