Professor Emeritus of History and Women's, Gender, & Sexuality Studies
PhD, Yale University, 1985
MA, Yale University, 1979
BA, Oberlin College, 1978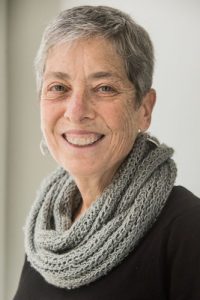 Lori  Ginzberg is a historian of nineteenth-century American women with a particular interest in the intersections between intellectual and social history.  Her research has focused on the ways that ideologies about gender obscure the material and ideological realities of class, how women of different groups express political identities, and the ways that commonsense notions of American life shape, contain, and control radical ideas.  She has written several books, including Elizabeth Cady Stanton: An American Life (Farrar, Straus, Giroux, 2009) and Untidy Origins: A Story of Woman's Rights in Antebellum New York (UNC Press, 2005).  She has taught in Penn State's departments of History and Women's, Gender and Sexuality Studies since 1987, serving as WGSS graduate officer and as the faculty advisor for numerous Ph.D. students.  She lives in Philadelphia, where she is finishing her next book, tentatively titled Tangled Journeys: One Family's Story and the Making of American History.
Prof. Ginzberg has spoken and written widely about the centennial commemoration of the passage of the 19th amendment to the U.S. Constitution.  A few examples include
"All Men and Women are Created Equal:' The Life of Elizabeth Cady Stanton" (National Park Service website)
A National Constitution Center conversation on the life and legacy of Elizabeth Cady Stanton.
Prof. Ginzberg also appeared in Penn State's "HumIn focus" film, "Who Counts: The Complexities of Democracy in America"
See Lori Ginzberg's recommended reading list in women's history on Shepherd.com's "Five Best Books" website.
Books and Recent Articles:
Elizabeth Cady Stanton: An American Life (New York: Farrar, Straus, Giroux, 2009; paperback, 2010)
Untidy Origins: A Story of Woman's Rights in Antebellum New York (Chapel Hill: UNC Press, 2005)
Women and the Work of Benevolence: Morality, Politics, and Class in the Nineteenth-Century United States (New Haven: Yale Univ. Press, 1990; paperback, 1992)
Root of Bitterness: Documents of the Social History of American Women, revised edition, coeditor with Nancy Cott, Ann Braude, Jeanne Boydston, and Molly Ladd-Taylor (Northeastern University Press, 1996)
"Radical Imaginings: The View from Atop a Slippery Slope," special issue of the Journal of Women's History on "What Difference did the 19th Amendment Make?" (spring 2020)
"Mainstreams and Cutting Edges," Journal of the Early Republic (Summer 2016)
Selected Awards:
Mayers Fellows, Huntington Library, (February 2020)
John Simon Guggenheim Fellowship (2012-2013)
OAH Distinguished Lectureship Program (2010-2022)
National Endowment for the Humanities Fellowship (2006-2007)
Excellence in Curricular Integration Award, Commission on LGBT Equity (2006)
Recent Courses:
HIST117 – Women in Modern History
HIST466 – Lesbian and Gay History
HIST516 – US Women's and Gender History
WMNST501 – Feminist Perspectives on Research and Teaching Across the Disciplines